What is Baraminology?
Part I
by Douglas Roger Dexheimer
The Bible states very clearly that God created plants and animals according to their kind, along with their ability to reproduce and fill the earth. The study of created kinds is called baraminology (from Hebrew ברא bara'—create, מין mîn—kind). One method used to determine if two species belong to the same baramin, or created kind is to demonstrate that they can hybridize with one another, or that each one can hybridize with a third species. Two or more species linked by hybrid data are termed a monobaramin, or basic type. However, since speciation often creates differences which prevent hybridization, a failure to successfully hybridize distinct species is not considered a reliable means test for ruling out monobarimin relationships.1
I have been interested in this biological field of study since about ten years ago, when I first learned of a successful hybrid cross between a lion and a tiger.  The resulting cub was referred to by researchers as a liger, or a tigon.  The fully grown hybrid offspring is larger than either parent, a characteristic ascribed to a phenomenon known as heterosis, or hybrid vigor.
The physiological vigor of an organism, as manifested in its rapidity of growth, its height, and general robustness, is positively correlated with the degree of dissimilarity in the gametes by whose union the organism was formed … The more numerous the differences between the uniting gametes — at least within certain limits — the greater on the whole is the amount of stimulation.2
WHAT IS A HYBRID?
From a taxonomic perspective, the term hybrid refers to offspring resulting from the interbreeding between two animal species or plant species.  Hybrids between different subspecies within a species (such as between the Bengal tiger and Siberian tiger) are known as intra-specific hybrids. Hybrids between different species within the same genus (such as between lions and tigers) are sometimes known as interspecific hybrids or crosses. Hybrids between different genera (such as between sheep and goats) are known as intergeneric hybrids. Extremely rare interfamilial hybrids have been known to occur (such as the guineafowl hybrids). No interordinal (between different orders) animal hybrids are known.
The hybridization of plants and animals is not equivalent to genetically modified organisms, or GMO's.  (We'll discuss genetic details in a future article.)
HYBRID PLANTS
Man has practiced the art of hybridization since Mendel discovered he could cross several varieties of peas to get a hybrid possessing the characteristics of both parents. 
In the 1860s, about the same time as Darwin, Gregor Mendel discovered he could cross breed different strains of pea plants and predict the traits of the offspring. He proposed that there was a genetic basis for inherited traits and demonstrated that he could control them. But his work languished until after the turn of the century. After his work was rediscovered, the science of plant breeding took off.3
These days many common vegetables are hybrids, and "somewhere around 99 percent of U.S. corn is grown from hybrid seed. The same is true for wheat, soybeans, grain sorghum, cotton, peanuts, and many other crops."4
HYBRID ANIMALS
The Liger is a hybrid cross between a male lion and a female tiger.  Both of its parents are from the Panthera genus, but from different species. The liger is the biggest of all the big cats, growing to a size approaching the size of both parents combined. Ligers possess characteristics from both parents: for instance, from tigers, their love of swimming, and, from lions, their highly social behavior.  At present, Ligers exist only in captivity, as the two species' territories don't normally overlap.  Historically, however, there are tales of ligers' existence in the wild. They were long thought to be sterile, but this notion was disproved in 1953, when a 15-year-old female liger was successfully mated with a male lion. The cub survived into adulthood, despite its poor health.5
The cama was created in a Dubai laboratory.  It is the result of a cross between a male dromedary camel and a lama. This purpose of this cross was to create an animal with the size and strength of a camel, but with the easier temperament and higher wool production of the lama. Interestingly cama are among the very few hybrids possessing assured fertility, since the cells of both the dromedary camel and the lama possess exactly the same chromosomal numbers. As the lama is six times smaller and lighter than a camel, the only practical method of obtaining a cama is by artificial insemination.  There have been only about 6 successful cama births thus far.6
Camels and llamas are classified as camelids (along with the South American alpacas) and their ability to hybridize indicates descent from the same created kind.  Baraminoloists maintain that Noah thus needed only a single male-female pair of this kind aboard the Ark, rather than two llamas, two camels, etc. 7
The dzo, or dzomo is a bovine hybrid, also known by the name, yakow.  It is the result of a cross between a yak and a domesticated bovine (i.e., cattle kind).  The resulting offspring is much larger than a either parent, and it is considered to be more volumetrically productive in both milk and meat. All of the females (dzomo) born from such crosses are fertile (fecund), and they can be successfully crossed with either of the parent species. Thus far, all males born from such a cross (dzo) are infertile. These animals where originally bred in Tibet and Mongolia as working animals.  They are much stronger than either of their parental counterparts,8 which is a phenomenal example of heterosis, or hybrid vigor.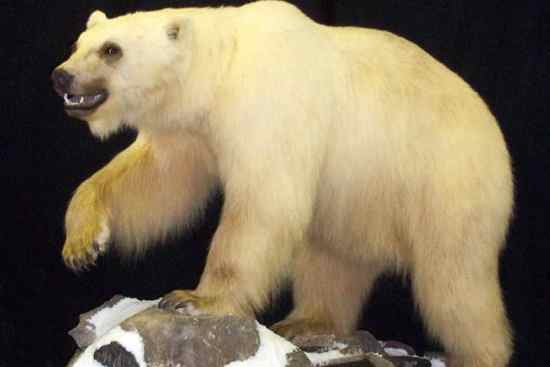 The grizzly-polar bear, or grolar bear, has been seen both in captivity and in the wild.  There are reported sighting of these animals from as early as 1964. Polar and grizzly bears generally distance themselves from one another. Grizzlies prefer forested areas and always breed on land, whereas polar bears gravitate towards water and ice -- in fact they even give birth on ice. Scientists have theorized that polar bears are being forced southward as the polar ice caps melt (the overwhelming preponderance of evidence to the contrary of such melting notwithstanding), into territories normally inhabited by grizzlies. The resulting grizzly-polar bear is a fertile hybrid.  There is even a case of a second-generation grizzly-polar bear's having been shot on Victoria Island. DNA tests have established that the bear's mother was grizzly-polar, and the father, grizzly.9
The mention of DNA testing on the grolar bear inspired me to present several related questions to Dr. Robert Carter, CMI senior scientist specializing in genetics, reproduction, and DNA.  Join us next month for a more detailed look into this fascinating topic of baraminology.
---
1 http://creation.com/identification-of-species-within-the-cattle-monobaramin-kind
2 http://en.wikipedia.org/wiki/Heterosis
3 http://www.livinghistoryfarm.org/farminginthe30s/crops_03.html
4 ibid. These do not include the particularly feared GMO seeds of today that contain genes not found in the original species. GMO researchers have, for example, introduced Atrazine-tolerance to grain seed. This is said to make it easier for farmers to keep weeds out of their fields; they can spray atrazine in their fields with abandon, without fear of killing the main crop. Unfortunately, atrazine kills the milkweed commonly found in corn and other grain fields. With far fewer of the essential milkweeds on which to lay their eggs and feed their larvae, the majestic Monarch butterfly population is severely hampered in its ability to provide the necessary pollination of the crop. Migrating Monarch populations have been severely reduced where GMO seeds are used by farmers, particularly in the U.S. Corn Belt.
5 http://listverse.com/2011/05/02/top-10-hybrid-animals/
6 ibid.
7 http://creation.com/focus-253#cama
8 http://listverse.com/2011/05/02/top-10-hybrid-animals/
9 ibid.
Ω